Vettted is a niche marketplace for SEO services.
They've been growing, and fast. Which is crazy considering they only have two people running the show!
The formula behind their growth is complex, so we'll focus on one key aspect today: their Youtube game.
Freelance marketplaces are usually a mess. You have too many people on the platform and picking the right one is cumbersome. Especially in SEO, where fakers come dime a dozen.
Well, Vettted fixes this issue, by accepting only a small percentage of applicants to make sure they have a viable track record, and offering exclusively SEO services.
There's lots to unpack here. Let's get started.
Instead of using their brand for the channel, they use Vasco's - the co-founder of Vettted. They appropriately call it "Vasco's SEO Tips". It features SEO case studies and tips.
Labeling it as a personal account instead of a brand account helps to make the content more authentic. And in marketing, authenticity pays off big time.
Thumbnails basically make or break your video.
Your video gets shown on the sidebar among dozens of other videos. How does it stand out?
If it doesn't stand out, CTRs drop and Youtube starts thinking it's not worth promoting to more people. And so your impressions go 📉
Vasco understood this - and that's why he makes every thumbnail eye-catching and provocative. Take a look for yourself: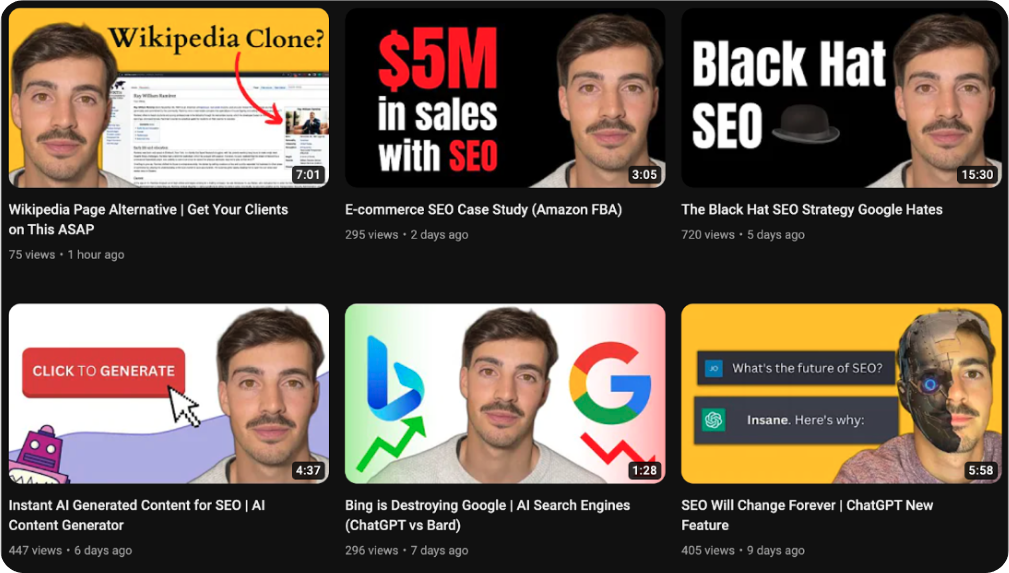 Most people look at Youtube as a massive time investment. But does it have to be?
Vasco proves it's possible. His content is still highly valuable to any viewer while lacking complex edits and fancy filters. It's just him, narrating in a clear voice, and recording his face. That's it.
The point is this: while fancy edits are good, what matters in the end is the quality of your content. If your content lacks substance, no amount of editing will make it great
If you're starting out on Youtube or planning on doing so, pay attention to what Vasco is doing. He's focusing on the 20% that bring him 80% of the results, and he does it this way because he lacks the time. Don't go all-in with edits and fancy strategies. Focus on what's relevant to your viewer.