If you're looking to publish job offers without the hassle of dealing with complex tools, we have the perfect solution for you.
In this guide, we'll walk you through the process of creating a job board article using a no-code tool that offers a ready-to-use job board template - you can have the structure of your article set up within minutes, leaving you with the simple task of adding your own content.
Plus, you'll have the flexibility to deploy it anywhere you want, whether it's on platforms like WordPress and Webflow, as a standalone web page, or embedded directly onto your website using HTML.
The first step is to create a new project using Notice. This a Notion-like tool, specialized in user-facing content. Here's how to do it:
Sign up for free on Notice: Launch the Notice platform and sign up for free to your account.
Create a New Project: Look for the + sign in the bottom-left corner and click on it to create a new project.
Choose the Job Board Template: After clicking the + sign, you'll be presented with various template options. Locate and select the Job Board template to initiate the process.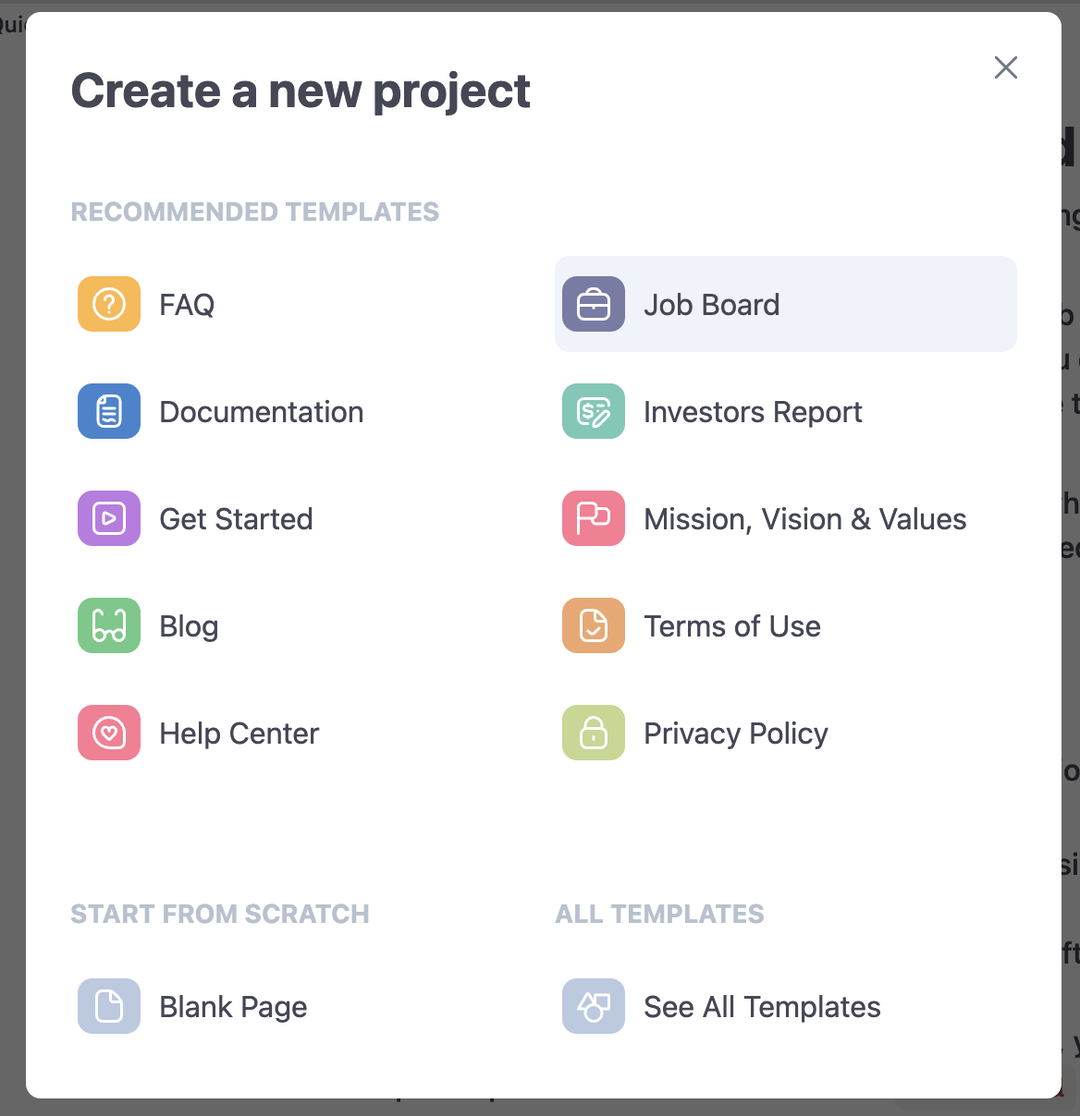 Now that you have the job board template in place, it's time to add your personal touch and contextual information to make it align with your brand:
Power of AI for Customization: This feature enables Notice to personalize the template using information gleaned from your own website. And it's not limited to textual content alone; Notice will incorporate your logo and style preferences too! It's the ultimate time-saving hack. Of course, you also have the option to stick with the default template if you prefer.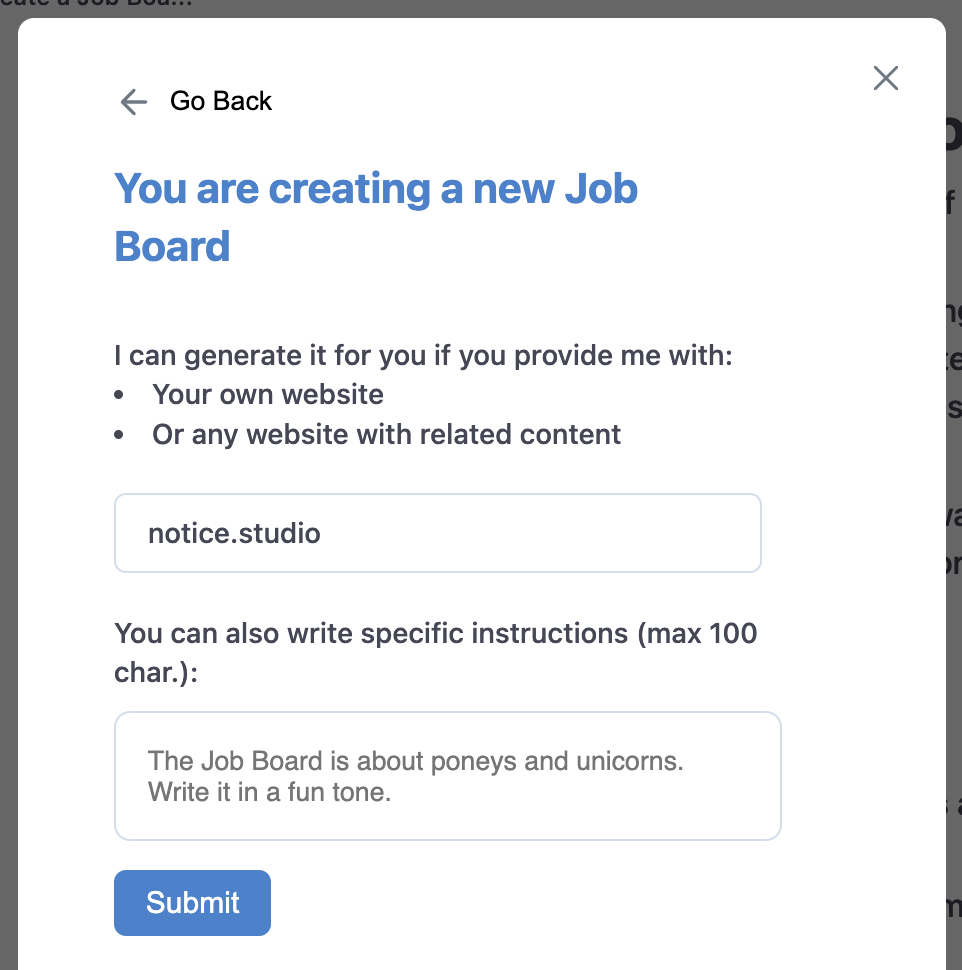 Customize for Branding: While the template provides a structure, it's crucial to tailor it to your brand's aesthetics using the Customization tab. Edit colors, fonts, and other design elements to maintain brand consistency.
Fill in Job Offers: You have all structure ready: headings, sections, bullet points - now you only need to replace the existing text with your personalized content. You can use AI Assistance to improve your offer: rephrase, enhance clarity, adjust tone, and more. Select your text and trigger the pop-up menu by clicking the robot icon and choose what you need - whether it's grammar checks, tone adjustments.
With your job board article structured and content-rich, it's time to share it with the world:
Explore Integrations: Navigate to the Integrations tab within the Notice platform. Here, you'll find various options for publishing your job board.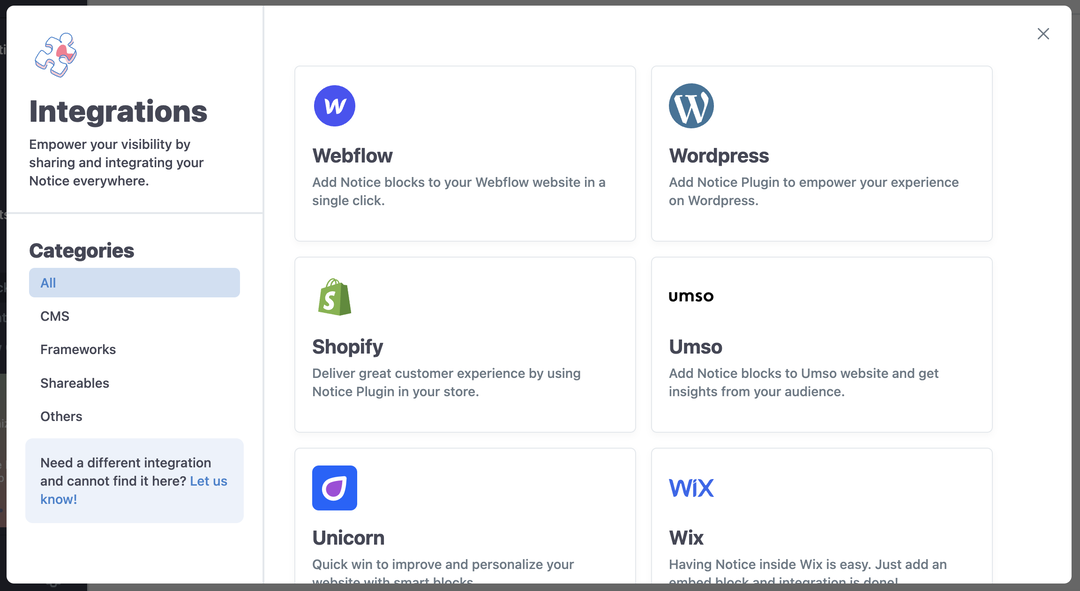 Select Preferred Method: Choose the integration method that best suits your needs. Whether you prefer WordPress, Webflow, or other platforms, Notice offers flexibility in deployment.
Hit Publish: Once you've chosen the integration method, click the Publish button located in the top-right corner of the platform. This action will make your job board article live and accessible to your target audience.
In a matter of minutes, you've successfully created a job board article using a no-code tool, that streamlines the process from template selection to content customization and publishing.
By following the steps outlined in this guide, you've harnessed the power of AI integration to enhance your job descriptions and ensured that your job board aligns seamlessly with your brand's identity.
With the flexibility to deploy your article on various platforms or embed it on your website, you're ready to connect with potential candidates in an efficient and impactful way.
So, why wait? Start simplifying your job offer publication process today with Notice!