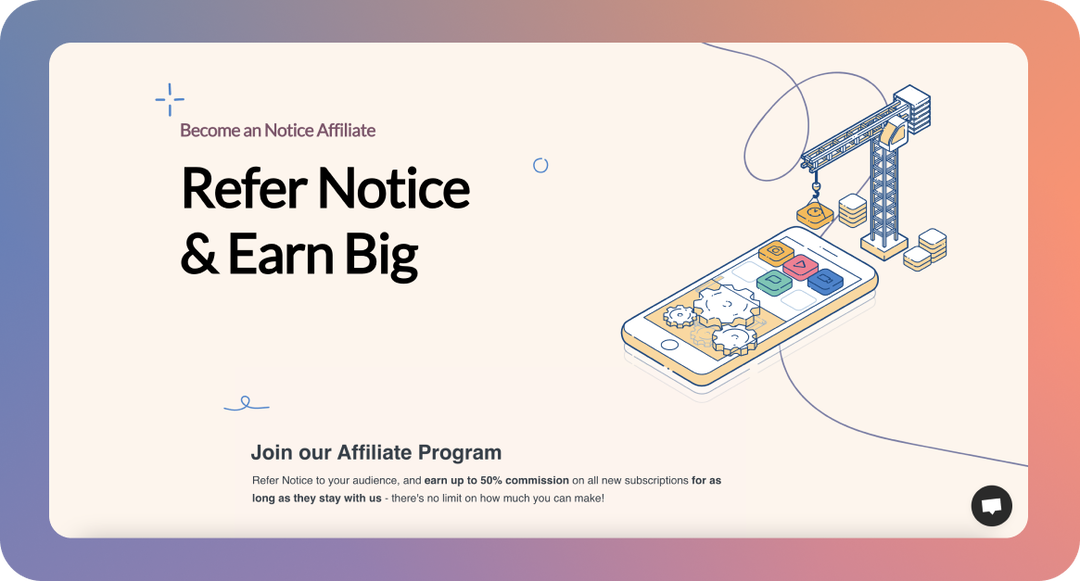 Are you a content creator looking to boost your earnings while sharing your passion for effortless content creation with your audience? Ta-da! Get to know the Notice Affiliate Program.
Notice is a no-code platform that empowers you to easily create and deliver fast great content across the web. Whether you're an entrepreneur, influencer, or content creator, Notice simplifies the process, saving you time and effort.
Now you can inspire others to join the Notice community – all while earning money and providing your audience subscription discounts.
Earn Passive Income: Embrace a passive income stream by referring your audience to Notice. With each successful paid subscription, you'll enjoy LIFETIME financial rewards!
Share Your Passion: If you've a crush on Notice (I mean, who doesn't?), why not share it with your audience, friends and clients? Our affiliate program lets you spread the word about this game-changing platform and they get discounts too - total win-win.
Expand Your Reach: Partnering with Notice means connecting with a like-minded community of content creators and no-code lovers. This is your chance to grow your network and reach new heights.
Discover all the important details on our Affiliate Page. From there, you can schedule a quick meeting to introduce ourselves and discuss everything you need to kickstart! Also, we're available on contact@notice.studio.
Don't miss the opportunity to join the Notice Affiliate Program during its early stages. As an early adopter, you'll enjoy exclusive benefits and set yourself up for long-term success.
As a Notice Affiliate, you'll become an integral part of our mission to transform the way content is created and shared online.