Launched in 2014, GitBook has proven itself a capable and innovative documentation solution. However, as the years have rolled on, the list of worthy competitors has continued to grow.
Notice is one such competitor. We offer a flexible and reliable documentation solution. And, our users can integrate a load of applications into our product including Wix, WordPress, React, and Vue.js, to name a few.
Let's explore Notice along with five other GitBook alternatives.
First, let's start with the basics—what exactly is GitBook?
GitBook is a platform that enables users to document their digital products. Users can collaborate with team members to craft, organize, and share information.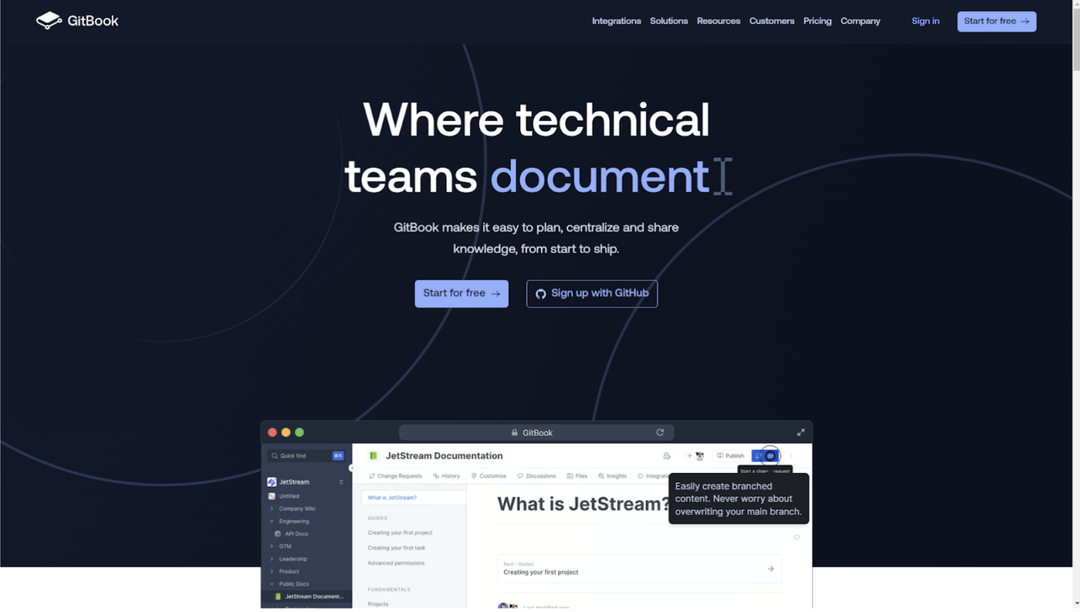 GitBook allows you to document pretty much anything you want. This could be products, internal knowledge bases, and even APIs. The platform is easy to use, and thanks to strong integration capabilities, you and your team can manage all your content from one place.
GitBook has a reputation for being the go-to documentation solution. However, there are several compelling reasons why you might want to take your business elsewhere:
Despite the term "easy" making frequent appearances in GitBook's marketing, the tool comes with a rather steep learning curve. This is because its target users are mainly programmers with advanced knowledge of Markdown and HTML.
On the other hand, tools like Notice are aimed at technical and non-technical users alike. It's super simple to use, and you can use it to create powerful content blocks with just a few clicks.
When using a tool with a steep learning curve, easy access to a (human) customer support team is a must. Unfortunately, GitBook is severely lacking in this department.
Many users will prefer a more hands-on customer support team—especially if they're new to this type of software.
Finally, GitBook's pricing may make it inaccessible for businesses on tight budgets. There is a free version available, but this is only intended for personal use. As a result, teams and businesses need to pay to access it.
If you're looking for a solid GitBook alternative, there's plenty to consider. Here are a few things to look out for:
A Simple, Intuitive Editor: When multiple people are editing the same document, confusion can arise. That's why our documentation software needs to provide an intuitive editor. It should have all the features you need, packaged in an easy-to-use UI.
Multiple-Device Compatibility: Your documentation software should work seamlessly across multiple devices (e.g., smartphones, tablets, desktops, and laptops). With robust software, users can access their documentation whenever and wherever is convenient.
Strong Security: When using documentation software, you may be creating and sharing sensitive information (e.g., unreleased product videos and customer data). You want to ensure that everything you work with is safe and secure.
Now, it's time to go through the best GitBook alternatives out there.
First up, we have Notice. This platform is a brilliant all-rounder suitable for individuals and small businesses. From knowledge bases to blogs and SEO-friendly content, Notice is a platform to quickly and easily create smart content.
Notice is an excellent solution for scaling your website or blog. Small marketing teams will benefit from its feature-packed content management system that helps them to scale their creations. It features AI integration, as well as auto-translations.
FAQs and rich snippets that are search engine-friendly
Google-Friendly content with analytics.
OpenAI integration to generate text and images
Get creative with fonts, colors, images, and much more
Integrate with a range of CMSs and frameworks
Notice's plans begin at the unbeatable price of $0/month. Beyond that, you can opt for the 'Team' plan for $9/month for each user. Or, you can choose a custom plan.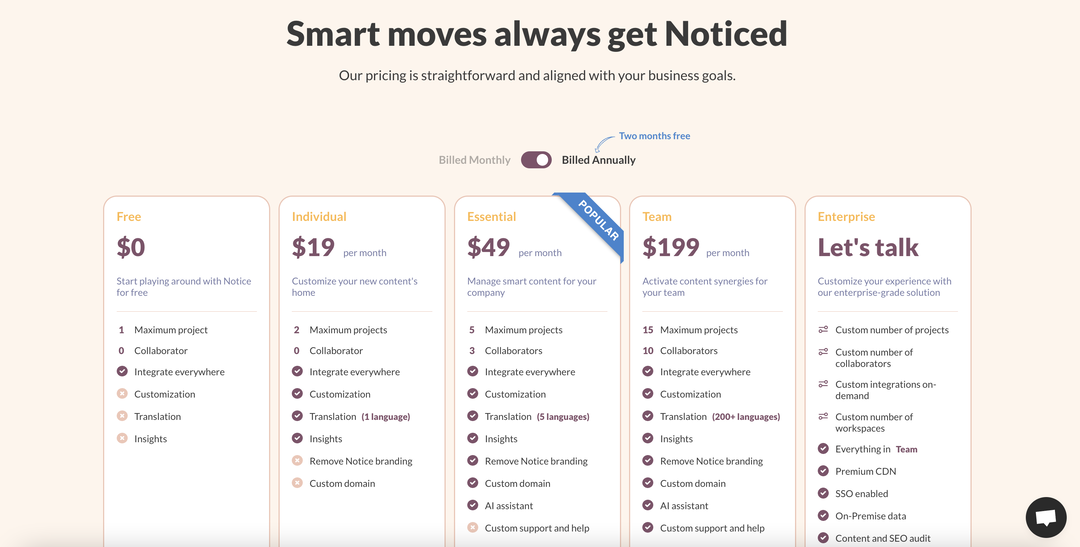 You get a lot of features with the free version, including unlimited articles and blocks, as well as SEO-friendly FAQs and policy statements. But, with the Team plan, you also get unlimited file uploads and analytics.
You get a lot of features with the free version, including unlimited articles and blocks, as well as SEO-friendly FAQs and policy statements. But, with the Team plan, you also get unlimited file uploads and analytics.
Here are some pros and cons of opting for Notice:
Pros:
Easy to use
Very flexible
Competitive pricing
Generous free plan available
Analytics and SEO features
Translation tool available in over 150 languages
Cons:
Not as many integrations as GitBook
Might not be suitable for large businesses
Ideal for non-techies, Archbee has a strong focus on simple yet powerful creations. It enables users to quickly create and publish a variety of content. Archbee expertly incorporates advanced capabilities with simplicity.
Archbee's interface is sleek and modern. It is an efficient platform with quick deployment at its heart. Archbee facilitates communication and collaboration so that you can easily develop and manage your content.
Drag & drop to organization
Search query visibility and analytics
View the historical changes in documentation
Maintain control of document access
Knowledge management with graphs
Archbee offers straightforward pricing. The 'Starter' plan is completely free, while the most popular 'Scaling' plan costs $149/month.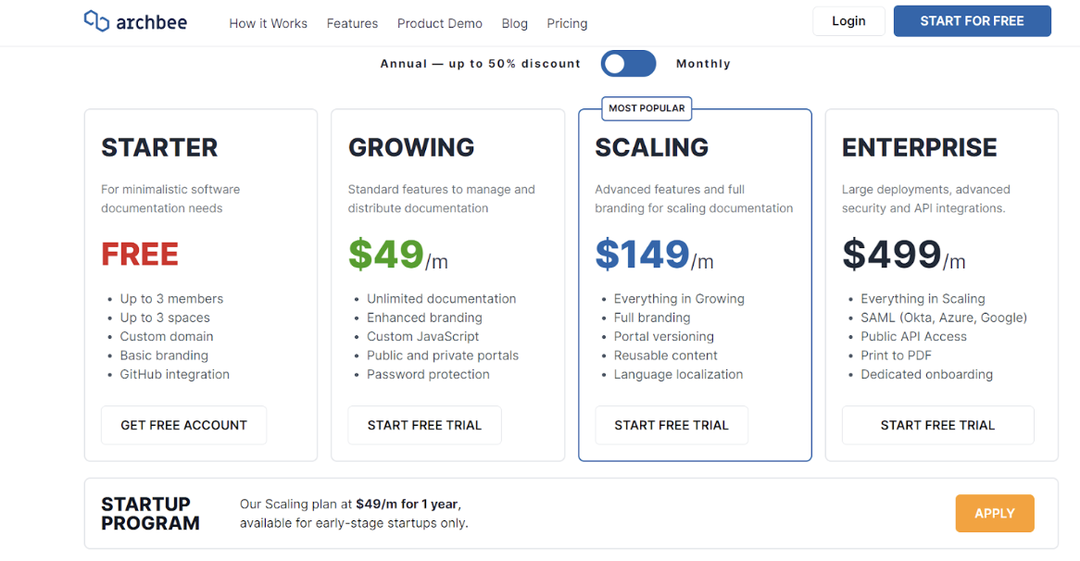 The free option is perfect for small teams or new businesses. You can add up to 3 members and enjoy basic branding. The Scaling plan, on the other hand, allows full branding and more advanced features.
Here are the pros and cons of Archbee:
Easy to use
Good customer support
Community-focused
Generous free plan
Straightforward pricing
Some users have experienced bugs
Nuclino is fantastic for teams wanting intuitive software that aids unified collaboration. Your data can be organized with graphs, tables, and lists, making it a good option for visual representations. It dubs itself the "collective brain" that enables teams to manage their projects from one workspace.
Manage projects with tagging, searches, and visual tools
Leave comments and give feedback to team members
Strict sharing and privacy policies
Social media-style activity feeds
Easily control who can access your documentation
Like our previous two GitBook alternatives, Nuclino has a free plan available. The Premium plan is $10/month, while the standard costs $5/month. This price is per user.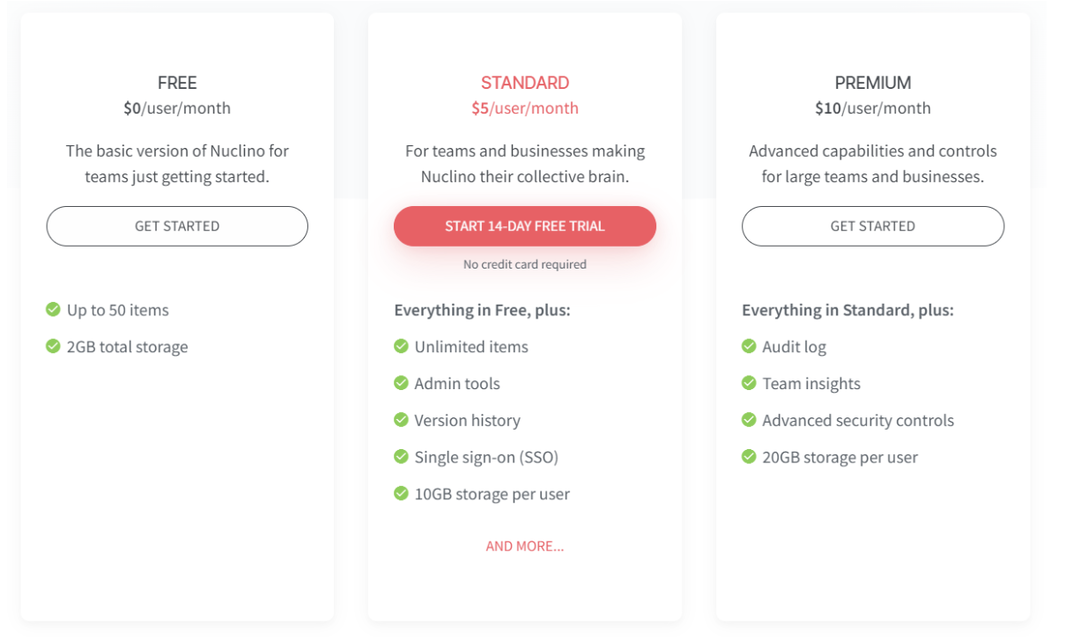 One of the great things about Nuclino is that its Standard plan comes with a 14-day free trial. So, you can try before you buy.
Let's look at the pros and cons of Nuclino:
Pros:
Good value for money
Apps for desktop, web, and mobile
Real-time collaboration
Good Customer support
Easy to use and organise documents
Cons:
Could do with more integrations
Limited storage
Slite is aimed at small and medium-sized businesses. The knowledge base has loads of templates to choose from to create the documents that you need. Choose from weekly reviews, employee handbooks, onboarding check-lists, and many more resources for writing good documentation. Additionally, Slite's AI can search your workspace to rapidly answer your questions.
Collaborative cursors to see who is editing what
Drag and drop content creation and management
Create markdown files
Make inline comments to other team members
Keep documents organized with Doc Covers
Create profiles of team members and mention them in comments
Slite's Free plan gives unlimited members the ability to create and manage 50 documents. They also gain access to all the editor blocks available, plus unlimited integrations. The Standard plan, starting at $6.67/month, incorporates analytics and Google SSO.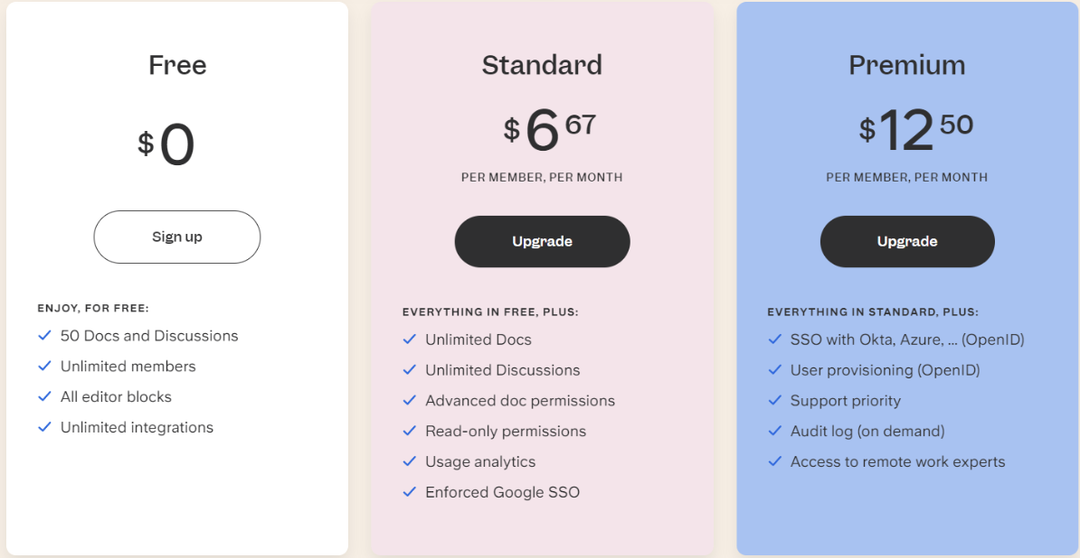 Let's take a look at Slite's pros and cons:
Pros:
AI assistant makes finding answers easier
Very reasonable pricing
Exceptional support
Feature-rich platform
User-friendly interface
Cons:
No GIF integration
Can be slow on mobiles
Docsie is ideal for teams both small and large. One of its advantages is its highly-customizable documentation creation tools. You can expertly capture your brand's image and integrate it into your documents. More still, documents can be published in multiple languages.
Publish brand-oriented product documents
Customize and publish interactive knowledge portals
One software for unified documentation management
Smooth team collaboration
Dedicated customization hubs
With Docsie, users can enjoy up to three team accounts for free. Alternatively, small teams can pay $79/month for up to 15 team accounts. This gives you access to features including knowledge base customization, migration support, and the ability to use custom JS.
Now, onto Docsie's pros and cons:
Pros:
Lots of customization tools
Very easy to use
Lots of support
Plenty of collaboration capabilities
Publish documents in multiple languages
Cons:
Would benefit from more integrations
Guru is a comprehensive software with a particular emphasis on gathering and organizing knowledge. Unify teams and make Guru your one-stop-shop for your team's documentation and information. It retrieves information from Slack, Google Docs, and the internet, whenever you need it.
Editor is simple yet powerful
Retrieve information from Slack and the internet
Sync Guru with a wide selection of tools
Effortlessly organize knowledge with boards, cards, and groups
Guru's Starter plan is free for up to three users. It then costs $5/additional user. Users can get features like custom branding, analytics, and advanced permissions when they sign up to the Builder plan. This costs $10 for each team member.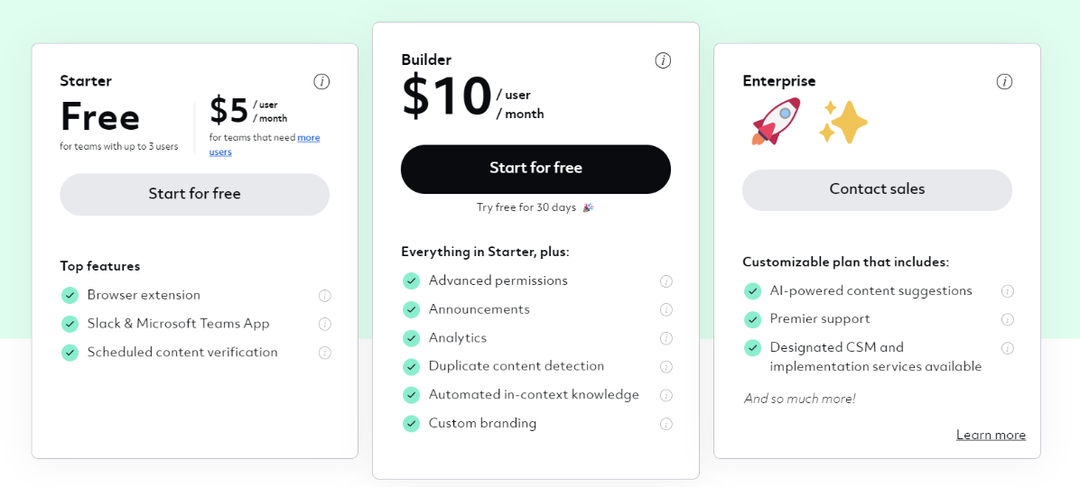 Here are some pros and cons of Guru:
Pros:
Very intuitive platform
Incredibly easy to use
Convenient browser add-on to quickly access information
Verification feature for content accuracy
Cons:
Existing comments cannot be edited
Ultimately, the GitBook alternative you choose will depend on your project and business. Perhaps you prefer a documentation solution which has a vast array of templates. Or, perhaps you need quick access to plenty of information.
Notice is a documentation solution that makes documentation creation and sharing a breeze. Users can take advantage of SEO features, analytics, and integrations to help build an efficient workflow.
Get started with a free trial today!