We have been keeping this big secret for some weeks, and now we're so thrilled to finally be able to announce that we've been selected as one of the 40 most promising startups of STATION F campus among 1.000 companies 🚀.
Being hand-picked among so many cool and innovative startups is a big deal and I'm gonna tell you about our experience on it.
Station F is this enormous incubator campus - the biggest from Europe - based in Paris. Since 2019, Future 40 program is annually picking the 40 rising stars of the whole campus.
The selected ones come from multiple domains and the goal of the program is to highlight these 40 ambitious projects by offering a dedicated pitch training program and presenting them to investors.
On the demo day, this select group is revealed during an online presentation with a 2 minute pitch of each company.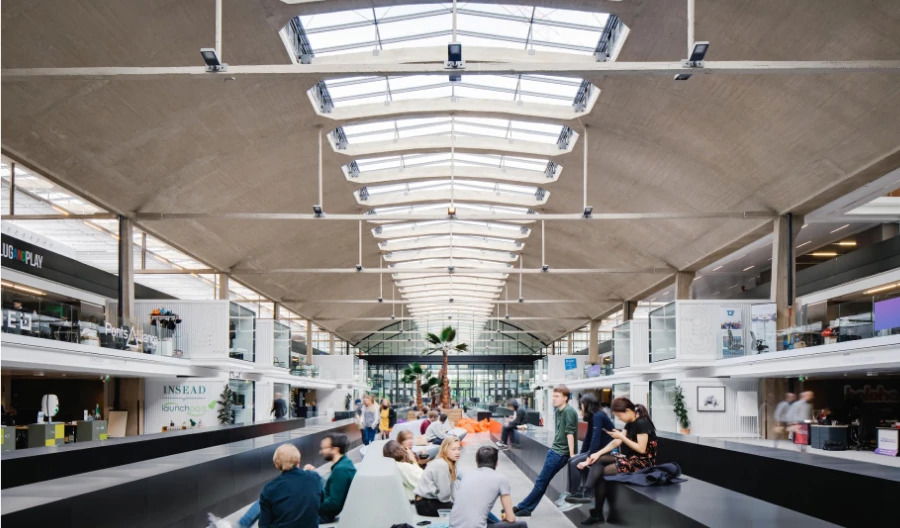 First of all, you need to have your startup incubated in any program of Station F.
At this current edition, selected companies could not have raised more than 1 million euros and have strong metrics!
The application period starts around July and the whole process is made online. Your program manager shall announce the details of it but keep in mind that the jury is going to focus on your KPIs, tractions, roadmaps and the founders backgrounds.
Future 40 is open to a large variety of topics, so don't worry if you are not working with crypto or metaverse and don't feel "trendy" 😅
For example, Notice is a no-code tool. We're committed to empower the web with an editor that centralizes all your content in a single place.
Amazing tool to lift weight off your shoulders by creating, sharing and translating everything in the same app that automatically is going to update your changes in all your different platforms. Try our freemium option and let us know what you think about :)
One last tip: don't hesitate to reach out to startups that participate in the last editions to now more about their experience on it. Also, it is a great way to understand if the program fits your needs and expectations.
Summarizing: solid changes of raising money. Fun fact: in the last 3 editions, companies have raised over €220 million to date 📈
After being selected, all companies go through a dedicated pitch training, not just about public speaking, but we are also oriented about the content and visual presentation of the pitch.
During the sessions, we had the opportunity to get to know each other better. Turns out it was a great moment to share experiences about all daily challenges a startup faces. We're all in the - almost - same ⛵/🛥️.
Once the workshops are done, it's time to present the pitch to the camera - the Future 40 team is going to record you pitching for 2 minutes and this material is going to be presented online during the demo day - with exclusivity for selected investors and the press.
Besides the virtual environment, a dinner between founders and investors is proposed. Now it's up to you… you don't have many options besides going there and killing it 🔥 💪
Ahrtemis: aHRtemis helps companies shape their recruitment campaigns based on data marketing principles.
Alpagga: Alpagga is a BtoB marketplace that allows professionals from the catering industry to sell and buy second hand equipment easily.
Alvie: Alvie wants to disrupt the way we protect our plants in agriculture. Combining a unique approach of tech (big data, IoT) and agronomic science, Alvie's goal is to cut up to 70% of pesticides used in farming, and facilitate transition towards organic agriculture.
Amatera Biosciences: Amatera is an agtech platform to sustain woody crops in a changing climate. Starting with coffee by creating the first coffee variety naturally caffeine-free.
Bleen: Bleen is a French-based startup that's reinventing the lawn and garden space. Their data-driven service and products will help lazy gardeners turn their yards into verdant and sustainable ecosystems.
Blitz: Blitz is a no-code platform to build internal apps. Blitz make it easy for non-technical users to create business apps and workflows adapted to their needs.
Broke and Abroad: Broke and Abroad is an e-tourism platform with a mission: make the world of travel more accessible.
Clarity: Clarity is developing the first Digital Brain Clinic for patients with neurological disorders (Alzheimer's, stroke, Parkinson's). The platform combines validated digital therapeutics, virtual reality and precision medicine methods.
Cobbaï: The semantic platform to shape the Voice of Customers & automate the management of their feedback.
Crew3: CREW³ is a platform helping web3 companies understand, activate, and grow their communities.
CrunchDAO: CrunchDAO is a fintech leveraging the power of Web3 collective intelligence to create the next-generation financial insights provider.
Cyrius: Cyrius is the all-in-one human risk management platform for cybersecurity.
Deep Talk: Deep Talk is a no-code AI/NLP platform to turn text into actionable data. Transform reviews, surveys, emails, social networks and chats, into sales, customer success, and better customer experience.
Fygr: Fygr is the most intelligent and intuitive cash flow management and forecast tool for SMBs owners and their CPAs, with an approach 100% focused on cash, analytics, and forecast.
Holis: Holis's collaborative LCA & Eco-design platform enables companies to iteratively quantify, improve and communicate their products' socio-environmental performance, blending a didactic interface with AI to gain efficiency and reduce costs.
Humanitics: Humanitics develops a SaaS solution that helps brands increase the performance of their stores, by regularly recommending targeted actions to each store manager, thanks to AI.
IMPACT+: IMPACT+ is a sustaintech solution enabling digital advertising players (brands, agencies, adtechs and adnetworks) to evaluate and reduce their environmental impact. IMPACT+ builds new performances indicators and tools to help this ecosystem to use GHG emissions and electricity consumption to inform their digital advertising strategy.
Jamble: Fashion resale marketplace powered by live streaming and video.
Jimo: Jimo enables product teams to effortlessly connect with end-users at any step of the product lifecycle, from discovery and shaping to feature announcement. So you can build user-centric products that are more likely to succeed.
Katalyz: Katalyz reinvents the way B2B deals are closed by restoring alignment and trust in a post-covid world where remote selling has become the new standard.
Konect: Konect is the place where gamers express who they are, share what they achieve and connect with each other.
Kumulus: Kumulus aims to solve the problem of drinking water scarcity in MENA. Kumulus' machine is portable and can produce 20L of drinking water/day using only solar power and humidity.
Leto: Leto automates GDPR compliance for organizations.
m-work: m-work organizes flexible work by empowering teams to synchronize when coming to the office or working remotely, so people meet the right person at the right time and place.
Notice: The single place to create, translate and share smart content. A sandbox to build blocks (Blog, FAQ, Documentation, and much more) that you can embed everywhere.
Omena: Omena is a digital healthcare pathway to help women go through menopause, and after. Omena inform them, help them reduce their symptoms, and provide them with medical support.
PALM: Powered by AI and deep learning, PALM's talent marketplace provides enterprises with a single solution for managing Talent development, retention and upskilling, and for growing a diverse global workforce.
Payper: Payper is an online payment solution to help SMBs get paid and gain visibility & control over their cashflow.
PoseAI: PoseAI's patented motion intelligence platform enables effortless, real-time motion capture for end-users. Lightweight enough to run on mobile phones, PoseAI can transform interactive experiences in gaming, fitness, production and elsewhere.
Prepera: Prepera leverages AI technologies & Gen-Z-level content to democratize access to quality and pertinent career coaching for young job seekers.
Qivio: Qivio is a full digital company that aims to disrupt mobility insurance distribution through embedded plugins in vehicles dealerships softwares.
Qweeko: Qweeko develops a solution that automates the environmental evaluation for Electrical and Electronic Equipments (EEE), through the Life Cycle Analysis method, and makes this process scalable for the first time.
Sneakmart: Sneakmart is the first streetwear community blurring the lines between Web2 and Web3. Creating new ways for streetwear fans to collect digital and physical sneakers.
Symeo: Symeo is a SaaS company to boost your team efficiency and your code quality by using the best key indicators and collaborative processes.
Tailor: Tailor is creating a NFT ticketing marketplace & software to allow artists and event organisers to connect with their fanbases through their live events, offering them creative and unique experiences.
The Serious Gut: The Serious Gut develops personalised solutions centred around the microbiome to improve digestion, anxiety and immunity.
Tremau: Tremau provides best-in-class trust & safety solutions to trusted flaggers & online platforms, giving easy access to efficient and cost-effective content moderation and compliance tools in an evolving regulatory landscape.
Trout Software: Trout Software is building the next generation of Security Investigation software.
Verdikt: SaaS solution for measuring, reporting and improving the CSR performance of companies' digital technology. CIOs are now mastering low-carbon, sustainable and cost-effective IT while contributing to companies' CSR execution strategy.
Yumon: Yumon is a gaming platform where internet creators are the heroes. Creators grow their brands and community while generating ad-free revenues.
Resource: Station F provides the list of the 40 selected companies